Tuesday, March 14, 2017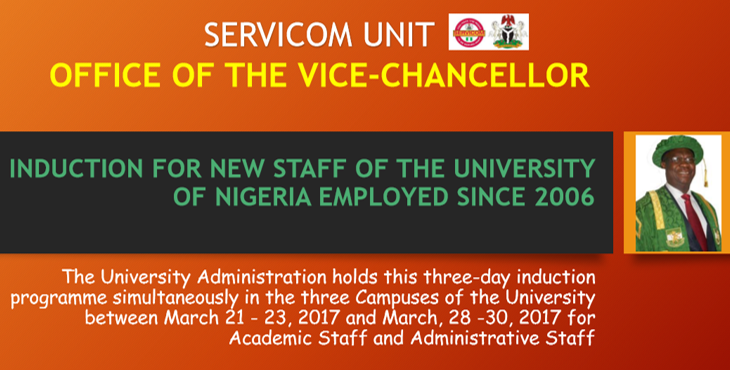 The Servicom Unit,
University of Nigeria, Nsukka
announces the induction for new staff of the University (see picture above for details).
DOWNLOAD
the time-table.
Pages
Popular Posts
Hot seat!  Students matching into the CBT centre, after Accreditation. The GSP 111 exam for fresh students was taken on Monday, 2...

Librarians' Registration Council of Nigeria (LRCN) National Workshop for Librarians and Information Managers (5th - 10th August, 2018)...

Library Tweets

Popular Posts
On September 1, 2016, the moon will pass in front of the sun, creating a brilliant ring of sunlight visible from Nsukka. When the moon c...

The Library Administration recently re-painted the library building as part of the maintenance culture of the University and to keep the re...

Mark Reeves Mark Reeves is a Ph.D candidate at University of North Carolina whose research focuses on the global history of anticoloni...

UNN Space [IR]

UNN News

Library News

Elsevier Library Connect